Do you regularly tow or carry uneven loads? Do they cause the rear or front end of your vehicle to sag or lower to the road?
If so, an airbag suspension kit will help provide a safer, more comfortable drive.
Airbag suspension is designed to improve load carrying performance, braking, steering and handling. When used correctly, airbag suspension will reduce wear and lower maintenance costs on your vehicle.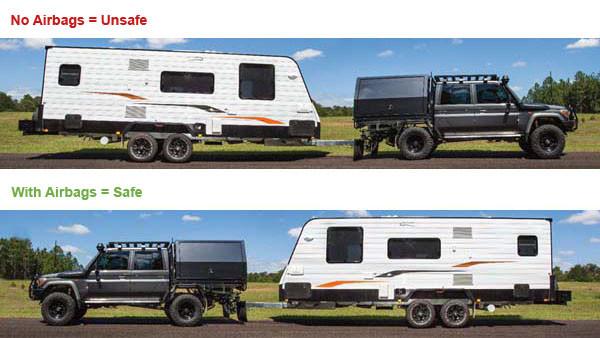 What exactly is airbag suspension?
 Airbag suspension, also known as air suspension, airbags or air springs are airbags which are added to your vehicle's suspension system. 
There are significant benefits to using airbags. Here's some of the reasons why people use them.
Airbags eliminate sway and provide better steering, handling and braking.
They quickly stabilise your load when towing.
They improve ride quality – whether on or off road, vehicles equipped with air suspension handle bumpy roads with ease.
They prevent 'bottoming out', where your vehicle drags dangerously low on the road.
They're competitively priced! When it comes to towing heavy and inconsistent loads, airbags are a cheaper alternative to a lift kit.
How does airbag suspension work?
 Airbags allow you to lift and level up a sagging vehicle, when towing or carrying uneven loads. They are adjustable, allowing you to compensate for inconsistent loads. This means they can be inflated or deflated to suit your requirements. 
 Airbags are used on many types of vehicles including recreational, commercial, industrial and agricultural.
 Airbags available in the recreational 4WD market are often used for:
Towing caravans and camper trailers
Outback touring
Correcting heavy roof loads.
How will airbag suspension be installed on my vehicle?
 Airbags are designed to suit all types of suspension including leaf/axle and chassis, inside a coil spring or even a full coil replacement.
How do I inflate or deflate my airbag suspension? 
This depends on what type of setup you choose. You can get kits that you need to manually add or remove air from by using a portable air compressor. You can do this at any service station. Alternatively, you can purchase your own portable air compressor, relatively cheaply.
 You can also inflate or deflate your airbags from the comfort of your vehicle with wireless air suspension kits! Who doesn't want to sit in the driver's seat and adjust their suspension at the touch of a button?
Check out the video from Airbag Man to see adjusting your airbags in action!
We will give you a thorough demonstration on how to use your air suspension properly at the time of installation.
When is airbag suspension not a good idea?
 There are scenarios in which airbags are not the best option. When carrying consistently heavy loads (over 500kgs) a heavy duty lift kit or springs are a better option. Speak with our team for advice on carrying heavy loads.
 Ready to chat?
Airbags provide extra support needed in the suspension for more comfortable, economical and safer driving.
Hall Towbars stocks a large range of air suspension kits and accessories from Airbag Man to suit every vehicle. Get in touch with our expert team today for more information and a tailored solution.
Learn more about our range of Airbag Man Air Suspension kits here.